Warning
This article contains spoilers and/or new or upcoming content, and therefore may be incorrect and will change from time to time.
"
You are cordially invited to the biggest feud in Hollywood history.
"

—Bette and Joan trailer
Bette and Joan is the subtitle of the first installment of Ryan Murphy's anthology drama series Feud, focusing on the backstage rivalry between Joan Crawford and Bette Davis during the production of their 1962 Oscar-nominated film What Ever Happened to Baby Jane?. The season was picked up by FX with a straight 8-episode-order on May 5, 2016. Murphy serves as executive producer alongside Tim Minear, Dede Gardner, Alexis Martin Woodall, and Chip Vucelich. Jessica Lange and Susan Sarandon are also credited as producers. The pilot was based in part on the script Best Actress by Jaffe Cohen and Michael Zam, which Murphy purchased. The season officially premiered on March 5, 2017 on FX.
Synopsis
Related article: Bette and Joan Timeline
Bette and Joan tells the story of the legendary rivalry between Joan Crawford and Bette Davis during their collaboration on the Academy Award®-nominated thriller What Ever Happened to Baby Jane?, and well after the cameras stopped rolling. The series explores how the two women endured ageism, sexism, and misogyny while struggling to hang on to success and fame in the twilight of their careers.[1]
Cast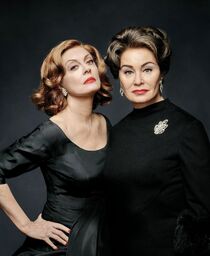 Main Cast
Supporting Cast
Special Guest Stars
Guest Stars
Co-Stars
Development
Conception
The Ryan Murphy series was picked up by FX on May 5, 2016.[2] As a long time fan of Bette Davis, Murphy was always yearning to create a project based on her life, and he was fortunate enough to score an interview with her before her untimely passing in 1989. The agreed-upon 20-minute interview lasted four hours, and inspired his characterization of Davis in Feud. He said, "When I would ask her about Joan Crawford .. She would just go on about how much she hated her. But then she would sort of say ... 'She was a professional. And I admired that'."[3]
Murphy was also inspired to create the series by looking at the lack of women in Hollywood, after several reports pointed to the startling few number of women and minorities positioned behind the camera. Since then, Murphy made a real commitment to diversity in his company, forming his Half Foundation and hiring 50 percent women and minorities, and from that, he saw an opportunity to do something meaningful. "What came out of that for me was a lot of very moving sentiments from women, and from that I decided to jump off into Feud," Murphy told reporters at the Television Critics Association winter press tour on January 12, 2017.
"I wasn't interested in doing anything that was quote unquote campy. I was interested in something deeper and more emotional. What happened to them was painful," Murphy said, referring to the way women were often unwillingly pitted against one another by a male-run system that had no regard for women once they'd aged. "I think there's something much more delicate and moving, and for me, what I love about the show is the issues in the show are modern and women are still going through this sort of stuff today. Nothing has really changed. We really wanted to lean into that aspect of the show."[4]
Executive producer Dede Gardner agreed with Murphy's sentiment about Feud's relevancy in 2017: "I think the show is deeply modern. I think it's delicious in its celebration of a town that was less crowded, but I don't think it romanticizes it. I think it's called it out for its truisms, but it was brutal. These women were treated brutally and made to treat one another brutally," she said. "I think we could stand to improve a great bit."
Production
Casting
On May 5, 2016, Lange and Sarandon were announced to star as Joan Crawford and Bette Davis. Alfred Molina, Stanley Tucci, Judy Davis, and Dominic Burgess also joined the cast, in the roles of Robert Aldrich, Jack Warner, Hedda Hopper, and Victor Buono, respectively.[2] In August 2016, Catherine Zeta-Jones and Sarah Paulson joined the cast playing Olivia de Havilland and Geraldine Page.[5][6] In September 2016, it was reported that American Horror Story executive producer Tim Minear would be co-running the series with Murphy.[7] Jackie Hoffman also joined the cast as Mamacita, Crawford's housekeeper. In November 2016, Molly Price, Kathy Bates, and Alison Wright joined the cast of the season, in the roles of Harriet Foster, Joan Blondell, and Pauline Jameson.[8][9][10] In January 2017, it was announced Kiernan Shipka was cast in the season as Davis's daughter, B. D. Hyman.[11]
Filming
Filming for the first season of Feud began in September 2016 in Hollywood, California, and officially ended on February 4, 2017.[12][13][14] Filming locations included 900 N Gower St, Hollywood, CA 90038, at the original entrance to the famous Paramount Studios, and Rossmore Ave, Los Angeles, CA 90004, which can be seen in the "Hollywood Drive" teaser. Additionally, Ryan Murphy was spotted on the set of Feud at 356 S Rimpau Blvd, Los Angeles, CA 90020.[15]
Marketing
Murphy gave numerous interviews about the show during the 2017 Winter TCA Press Tour.[16] The show's first teaser trailer, "Invitation", was released on January 19, 2017, and the second, "Hollywood Drive", on the following day.[17] That same week, Lange and Sarandon appeared on the cover of Entertainment Weekly as Crawford and Davis.[18] Two commercials for the show also aired during Super Bowl LI, titled "Fight" and "Stars".[19] A first look of the official title sequence for Bette and Joan was released on February 8, 2017, with the fifth teaser "Wheels" coming out the next day, and the sixth called "Strut" releasing shortly thereafter on February 10.[20] Several billboards and advertisements were spotted in California that same week, in addition to sets of posters placed around New York.
On February 13, 2017, three new promotional videos were released, one of which was featured on Today with Kathie Lee and Hoda during an interview with Susan Sarandon.[21] Later in the day, Sarandon, Jessica Lange, Catherine Zeta-Jones, and Ryan Murphy made appearances at SiriusXM's Town Hall in New York to promote the show.[22] The first official trailer for Bette and Joan was released on February 14, 2017, and eight more promotional teasers came out the following day. Three additional teasers were released on February 16, 2017, and another on February 24, 2017. The official first look came out on March 4, 2017, just a day before the official airing. Bette and Joan also had a red carpet premiere at the Chinese Theatre in Los Angeles on March 1, 2017.[23]
Episodes
Image
Title
Original Airdate
U.S. Viewers (in millions)
1. "Pilot"
March 5, 2017
2.26[24]

Cast aside by Hollywood, screen legends Joan Crawford and Bette Davis battle ageism, sexism and each other when they sign up to make What Ever Happened To Baby Jane?

2. "The Other Woman"
March 12, 2017
1.32[25]

With production on Baby Jane underway, Bette and Joan form an alliance, but outside forces conspire against them.

3. "Mommie Dearest"
March 19, 2017
1.08[26]

As the production of Baby Jane reaches its climax, the feud becomes physical. Bette's relationship with her daughter becomes strained when she bonds with a new cast member. Joan reveals an intimate detail about her past.

4. "More, or Less"
March 26, 2017
1.21[27]

On the eve of its release, bad word-of-mouth plagues Baby Jane. Bette and Joan brace for failure. Pauline tries to break gender barriers. Oscar nominations are announced.

5. "And The Winner Is... (The Oscars of 1963)"
April 2, 2017
1.36[28]

Bette is on track to win a record-breaking third Best Actress Oscar. Joan and Hedda launch a clandestine campaign against her.

6. "Hagsploitation"
April 9, 2017
1.06[29]

Hungry for another hit, Warner pressures Aldrich to bring the original team back together for a follow-up hag horror pic. Someone from Joan's past poses a threat.

7. "Abandoned!"
April 16, 2017
1.31[30]

With production of Hush, Hush Sweet Charlotte underway, the feud is intensified when Joan learns of a new producer on the project. In an unguarded moment, Bette reveals her vulnerabilities to Bob.

8. "You Mean All This Time We Could Have Been Friends?"
April 23, 2017
1.30[31]

Joan accepts a leading role on a new film despite her deteriorating health. Faced with a new rival, Bette reflects on her misplaced feud with Joan.
Multimedia
Images
Videos
Title Sequence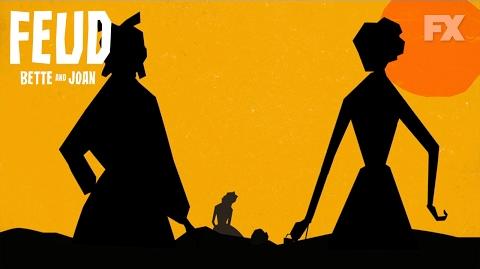 The main title sequence was released on the FX YouTube channel on February 8, 2017. The sequence was designed by Kyle Cooper and his team, who also worked with Murphy on FX's American Horror Story and Fox's Scream Queens. The one-minute 19-second offering covers all of the important aspects of the feud between Bette Davis and Joan Crawford while the two Hollywood icons were working on their one and only movie together, What Ever Happened to Baby Jane?, as well as some of their real-life antics as they played out off-screen.
The style of the sequence was inspired by graphic designer Saul Bass and is set to music created by Mac Quayle that is in part influenced by late composer Bernard Herrmann. Cooper's graphic direction was a combination of projects including such titles as Catch Me If You Can, The Man With the Golden Arm, and Anatomy of a Murder, coupled with the film Baby Jane itself. The thing Ryan liked about Catch Me If You Can was the lack of details in the characters' faces and the minimalistic details in their bodies, so that's the style Cooper went for. The entire process was a continuous back-and-forth involving Cooper slapping screenshots from Baby Jane onto his vision board, pitching various ideas from the film, and attempting to re-create film noir. He also wanted to make sure that there was plenty of popping brightness to contrast the darkness that was happening in the characters' lives.
As for the heart-shaped tears towards the end of the credits, the purpose was to reference the sadness of a friendship lost and all the wasted hate and frustration. The tears not only tie in with the title card logo, but they signify the friendship that could have been and remind audiences of the stakes there were for these leading ladies. There's a sadness about the fact that if they weren't enemies, they might have recognized the humanity of the other one, and it was important to Ryan that people come away with the idea that if circumstances were different and if they weren't so competitive, maybe they could have even been friends.[32]
Reception
The first season of Feud has received widespread acclaim from critics. On Rotten Tomatoes, the season has an approval rating of 88%, based on 41 reviews, with an average rating of 7.88/10. The site's critical consensus reads, "While campily and sweetly indulgent, Feud: Bette and Joan provides poignant understanding of humanity, sorrow, and pain while breezily feeding inquisitive gossip-starved minds."[33] On Metacritic, the season has a score of 81 out of 100, based on 40 critics, indicating "universal acclaim".[34]
Melanie McFarland of Salon called Murphy's writing "creatively wicked" and the series "outrageously fantastic", praising Lange and Sarandon for their spot-on performances and for "tempering their decadent rages and vengeful spats with a gutting sense of loneliness that tempers its lightness in solemnity."[35] Sonia Saraiya of Variety compared Bette and Joan unfavorably to Murphy's American Crime Story, writing that Feud is "neither as brilliantly campy and hateful as What Ever Happened to Baby Jane? nor as contextualizing and profound as People v. O. J. Simpson."[36]
Trivia
References